Have a look at our latest customer satisfaction study!
Pour la 6ème année consécutive, nous avons mené une enquête qualité auprès de nos clients.
Menée par l'agence Actance, elle révèle, cette année encore, un fort niveau de satisfaction sur les principaux items du questionnaire.
Voici les résultats en image (cliquez dessus pour l'agrandir):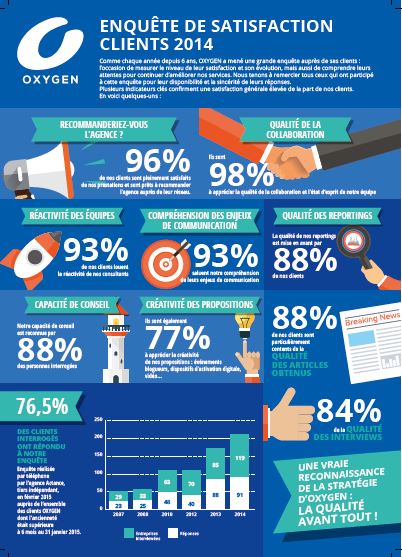 Nous remercions tous nos clients pour le temps qu'ils nous ont consacré à l'occasion de cette étude. Leurs réponses nous permettent de progresser et d'améliorer en permenance nos services. N'hésitez pas à nous contacter si vous souhaitez de plus amples informations sur cette enquête et les résultats.
0 comment Stephanie, Thursday 2 July 2015 | News, Our results
Testimonials
"Oxygen PR in San Francisco did a terrific job in helping us, Homido VR gain a better visibility within the media as we developped our operations in the USA. The whole team was very professional and competent, and was hands on for us at all time. They provided a state of the art PR effective strategy and supported us in our communications campaigns. The positive cooperation was particularly appreciated for the launch of the Homido 'mini' virtual reality glasses during CES 2016 in Las Vegas. Thank you Oxygen for going the extra miles to bring us closer to our public in the US!"
Olivier Mondon, PR Communications manager for Homido VR,
Any Questions?
We are at your disposal to answer to your question or to give you complentary informations. Don't hesitate to contact us, we'll give you an answer as soon as possible.